Turning Irrational Exercise Habits into a Healthy Lifestyle
It's time to change our mindset.
"Our mindset" refers to every individual who has ever had one slice of pizza too many and subsequently tortured themselves on the treadmill because of it. Exercise is not punishment and should not be viewed as such. If you consistently and begrudgingly plan your workout routine around your indulgences, fitness becomes an irrational afterthought. A healthy lifestyle includes both enjoying the sweeter (or more savory) things in life, as well as enjoying a sweat session for the benefits of fitness. Your body is built to be listened to, and practicing a balanced lifestyle will help you reap not only better health, but also performance benefits.
Turning Your Mindset Toward Rational Fitness
Instead of being mad at the alarm clock, rolling out of bed, and dragging yourself to the gym, find an activity that brings you joy. If a 6am spinning class makes you actually want to get out of bed, go ahead and rock it, but if it doesn't, don't be afraid to try something new. Anna Maltby, Director of Health and Wellness at Refinery29, says it best: "It's about focusing on the wonderful things that exercise does for you so it makes you healthier, it helps you sleep, it gives you less pain, and puts you in a better mood … and makes you live longer (2016)." If your current exercise habits are leading you to dread your time spent being active and not appreciate how good it makes you feel, it is time to reevaluate your mindset.
In order to change your mindset and think about an exercise program more positively, you must first cultivate your intent (or create a goal). Think about the desired outcome and the reasons behind your decision to develop an exercise routine. If you can connect your intent with a statement or even an item, the days when motivation is hard to find will eventually get easier and become habitual, no matter what you ate the day before! Don't hesitate to take the class you are interested in or pick a workout you love just because everyone else isn't doing it. Adhering to newfound goals and focusing your intent is the beginning of a lifelong wellness journey.
Three Tips for Motivation
Once you find your reason why, self-motivation is often the biggest hurdle. Following are three great strategies to facilitate and guide you to approaching exercise in a positive way.
Do the small things well. When writing down your main goal, also include 1 to 3 micro-goals that will help you keep track of your progress. Make sure to take the necessary time to learn the movement before moving on to the next, more difficult progression. This will also help you build confidence in and out of the gym. Claim your autonomy. Hold yourself accountable for your routine. Develop and establish the authority to control your workout schedule while also being flexible. Work meetings, family events, or social activities happen and it's okay to rearrange without beating yourself up about it. Stay positive. It's easy to be swept up in stress and forget why you started your journey in the first place. Create a gratitude journal and write at least one thing you are thankful for each day. Don't forget to reflect on the goodness that surrounds you.
No matter what your mindset toward exercise has been in the past, you can always make a change today!
This blog was written by Ellyn Grant, Healthy Lifestyle Coordinator. To read more about the NIFS bloggers, click here.
6 Tips to Stay Fit as a Gamer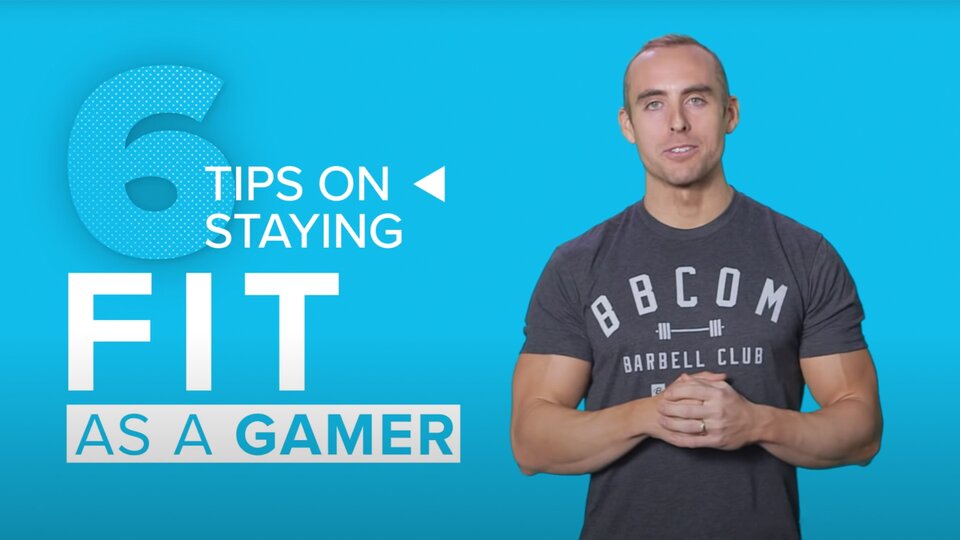 You can love to game and love to train. YouTube and Twitch content creator and pro natural bodybuilder Jackson "Bajheera" Bliton is here to show you what it takes to stay fit as a gamer.
Flexibility vs. Mobility in Fitness: Why Not Both?
When you hear the word stretch, you might think immediately about flexibility (or perhaps your lack thereof). Flexibility was always the term used for enhancing limited movement, until the word mobility arrived and took the fitness industry by storm.
As a NIFS Health Fitness Instructor for five years now, I've spent plenty of time in and around the fitness center using these terms. Whether I'm speaking to a client regarding their goals or sharing instructions on warm-up drills, these two words often get used interchangeably; however, they are not identical.
An Exercise Example to Illustrate the Difference
Generally speaking, flexibility can simply be defined as the greatest length a muscle can achieve during a range of motion (ROM), passively or actively. Mobility also requires achieving a certain ROM, but it also requires coordination and core strength to move around the joint under load.
Let's examine a front squat to help make this clear. A flexible person may reach the deep squat position, enabled by the flexibility in ankles, knees, and hips, but then lack the mobility (coordination and core strength) needed to correctly complete the exercise by standing up. Similarly, without flexibility, that person wouldn't even begin to reach the range of motion needed for the deep position required for the front squat, so mobility isn't even a factor without the proper flexibility.
The Affects of Age
When it comes to flexibility and mobility, age is definitely not on our side. As we age, we lose the elasticity in our muscles, and the tendons and ligaments tighten, making flexibility hard work. It's not until someone suffers from poor movement patterns resulting in limited functional movement that causes injuries for someone to start trying to combat the effects of aging. (You can learn more about your own condition by having a Functional Movement Screening at NIFS.)
Movement vs. Static Hold
Lastly, when looking to improve and enhance these two concepts, mobility requires movement, whether we are testing for it or training to improve it. On the other hand, flexibility is done more often with a static hold. It's safe to say that you could have excellent flexibility (the length of muscles required for a deep squat) but very poor mobility because you do not possess the ability to stand up out of a deep squat position under load.
Let me share with you a few helpful movements to further differentiate between these two concepts:
Flexibility Mobility Elbow to instep Elbow to instep w/ oscillation Half-kneeling ankle Ankle moving in and out Knee hug Hip drop
Be sure to stay tuned for part 2 of this series as I discuss the important addition of stability to your movement patterns.
This blog was written by Cara Hartman, NIFS Health Fitness Instructor. To find out more about the NIFS bloggers, click here.
5 Exercises for a Stronger Lower Back (Demo Videos)
Get the Basics…
Strengthen your lower back with these five workouts. Two of them require equipment. Watch demonstration videos to learn how to perform them.
If you work a desk job, drive often, or sit a lot for other reasons, the strain this puts on your lower back can cause stiffness and aches. Other than stretching and performing aerobic exercises to get your body moving between sits, it's likely you also need to strengthen those muscles.
But, if you struggle from chronic, debilitating back pain, please see a trusted chiropractor, physical therapist, or other spine specialist who can assess whether your back muscles are compensating for an underlying joint issue. Before you try the following lower back exercises, please clear them with your specialist.
Sign up for our annual Pro plan, where it's simple to log workouts like these and view your progress!
#1 – Bird Dog
The bird dog is an exercise you've likely done in a yoga or Pilates class before. It focuses on the diagonal positioning of your body, which means that you simultaneously move one arm forward while moving the opposite leg backward. Make sure you tighten your core while doing this move. You'll also feel this one in your traps, shoulders, hamstrings, glutes, and abs.
#2 – Superman
Another calisthenics and Pilates exercise is the superman. To strengthen your lower back with this workout, lift up your chest, arms, and legs while lying on your stomach. You can "fly" side-to-side to pretend you're the cape-draped superhero, or you can remain stationary. Pretending to fly is more fun, but either way, your glutes and "hammies" will also thank you for this exercise.
#3 – Pilates Swimming
Pilates swimming is like the bird dog and superman workouts combined. Lie on your stomach, lift your chest, arms, and legs, and simultaneously move one arm with the opposite leg; then switch. Pick up the pace to get a cardio boost!
You'll feel this one in several different muscles groups, including the abs. After all, an important part of strengthening the lower back involves stronger abs. They're connected and support each other.
#4 – Back Extension
The back extension requires the back-extension station at your local gym. If your spine specialist has approved this type of bendy workout, please perform it carefully. Cross your arms over your chest, and bend at the waist. Don't over-arch your back when you pull yourself up. Your glutes, hamstrings, and abs also favor the back extension.
#5 – Weighted Back Extension
Hold a weight plate over your chest for the weighted back extension. Unlike the previous workout, you'll start with a lower bend and pull up to where your chest is parallel to the floor. Your hamstrings and lower back (obviously) will feel the most impact. Again, please make sure this exercise is doctor-approved, especially since there's more than bodyweight involved. If you feel pain, stop.

Track your lower back progress and more when you sign up for our annual Pro plan. With our advanced stats in a convenient app, it's never been easier to stay motivated and meet your fitness goals!
You might also like…