Bring on Summer: Week 1 Workouts
Welcome to week one of our three-week Bring on Summer program workouts. If you'd like to view the full complimentary program, which also includes additional workouts, meal plans and recipes, and other healthy-habit tips, you can do so here.
The Workout
This workout is comprised of three circuits. Complete all exercises in a given circuit consecutively, one set each, and then take your rest before moving onto the next circuit. Continue until you've finished all sets. Repeat the full workout a total of three times throughout the week.
Circuit A
Sets: Three
Lunge
Reps: 15 (each side)
Stand with your feet shoulder-width apart.
Step forward with one foot and gently touch your opposite knee to the ground.
Push through the ground with your front lunging foot to return to your starting position.
Dumbbell Front Raise
Reps: 15
Stand with your feet shoulder-width apart.
Hold the dumbbells in front of you with your arms down, gripped so your palms are facing the side of your thighs.
Brace your abs.
Lift the dumbbells upward to shoulder height, keeping your arms straight, before lowering back to the starting position.
Glute Kickback
Reps: 15 (each side)
Position yourself on your hands and knees, placing your hands directly under your shoulders and your knees directly under your hips.
Keep your spine straight and contract your abs prior to movement.
Keeping your knee bent at 90 degrees, extend one leg up, contracting your glute until the back of your foot is facing up and your thigh is slightly past parallel to the ground.
Return to the starting position without touching your knee to the ground.
Circuit B
Sets: Three
Glute Bridge
Reps: 15
Lie down on the floor on your back. Bend your knees and place your feet flat on the ground. Lay your arms at your side with your palms facing down.
Push your feet into the ground (focus your push in your heels) and lift your hips off the ground until your knees, hips, and shoulders are in a straight line.
Squeezing your glutes, hold the top position for two seconds, then lower to the starting position.
Triceps Kickbacks
Reps: 15
Stand with dumbbells gripped in both of your hands.
Keeping your back straight, bend forward, roughly 45 to 55 degrees from your hips.
Keeping your arms next to the side of your body, bend them 90 degrees at your elbow.
Extend the lower part of your arms until they're straight, squeezing your triceps at the top for a quick second.
Return to the starting position.
Plank
Reps: 30 seconds
Lie on the floor face down. Place your hands flat on the floor, just below your shoulders.
Contract your abs and glutes prior to starting the movement.
Push through the ground with your forearms, hands, and toes, slowly raising yourself up until your body is in a straight line. (Try to lift your entire body off the ground at one time.)
Hold the top position for 30 seconds.
If you feel it in your lower back, tighten your abs more. If the feeling continues, reduce the time and do multiple sets until you have held the top position for a total of 30 seconds.
Circuit C
Sets: Three
Pushups
Reps: 15
Position yourself on your hands and knees, placing your hands slightly wider than shoulder-width apart.
Lift your knees off ground and bring your feet back until your body is in a straight line.
Keeping your elbows slightly below your shoulders, lower your body until your chest nearly touches the floor.
Push through the ground to lift yourself back to starting position.
Dumbbell Bench Row
Reps: 15 (each side)
Place a dumbbell on the floor next to a flat bench.
Bend forward at your hips, keeping your back straight, and place one hand and one bent leg of the same side on a flat bench.
Keeping your arm straight, grab the dumbbell on the floor, keeping a neutral grip (palms facing your body).
Focusing on pulling your elbow up, bring the dumbbell toward the lower part of your chest, squeezing your back at the top.
Slowly lower the weight until your arm is straight.
Side Plank
Reps: 15 (each side)
Lie down on your side with your feet together, one elbow directly below your shoulder, and your forearm flat against the ground.
Contract your glutes and abs.
Pushing through the ground with your forearm, raise your hips and knees off the ground until your body is straight.
Hold at the top for one second. Return to starting position.
The post Bring on Summer: Week 1 Workouts appeared first on Experience Life.
Have you tried this NEW workout plan that everyone is talking about?
To stretch or not to stretch: That is the question.
Some trainers swear it's essential; others argue that it's worthless. Some say you shouldn't even touch a weight until you've thoroughly stretched every muscle; others warn that preworkout stretching is counterproductive, even dangerous.
Don't roll up your mat just yet, though — there's a reason for the confusion.
"When most people think 'stretching,' they think of a runner putting their foot up on a railing, and holding it there for 15 seconds before they run," says trainer and injury-prevention expert John Rusin, DPT, CSCS, PPSC. But there's a lot more to flexibility training.
Simple as it sounds, stretching can cover a broad range of activities, Rusin says — from powerful, explosive moves to slower, more soothing ones. And they all play a role in optimizing your fitness, no matter your preferred sport or activity.
Static Stretching
This is the type that comes to mind when most people think of stretching: You assume a position that elongates a muscle or set of muscles — by reaching for your toes, for example — and hold the position for 30 seconds or more. Restorative yoga is an example.
Dynamic Stretching
This approach consists of powerful, repeated movements, performed with an extended range of motion, often incorporating athletic movements like reaching, running, or jumping. Think front and high-knee kicks, arm circles, walking lunges, and many other moves familiar to field athletes.
Targeted Mobility
Probably the least familiar modality to most gym-goers: You get into a stretch and systematically contract areas around the stretching muscles to enhance function and strength. As the name suggests, most moves focus on mobilizing a single joint, and sometimes a single movement in one joint. Variations include proprioceptive neuromuscular facilitation, functional range conditioning, and many physical-therapy treatments.
By incorporating the right stretching techniques into your routine, you can ensure steady progress in mobility, athleticism, and range of motion — all essential components of an effective and balanced fitness program.
This was excerpted from "Stretch Your Fitness" which was published in the April 2021 issue of Experience Life magazine.
The post 3 Types of Stretching appeared first on Experience Life.
Have you tried this NEW workout plan that everyone is talking about?
Habit Hacking for Health: A 4-Step Plan
How (and Why) to Stay Lean While Building Muscle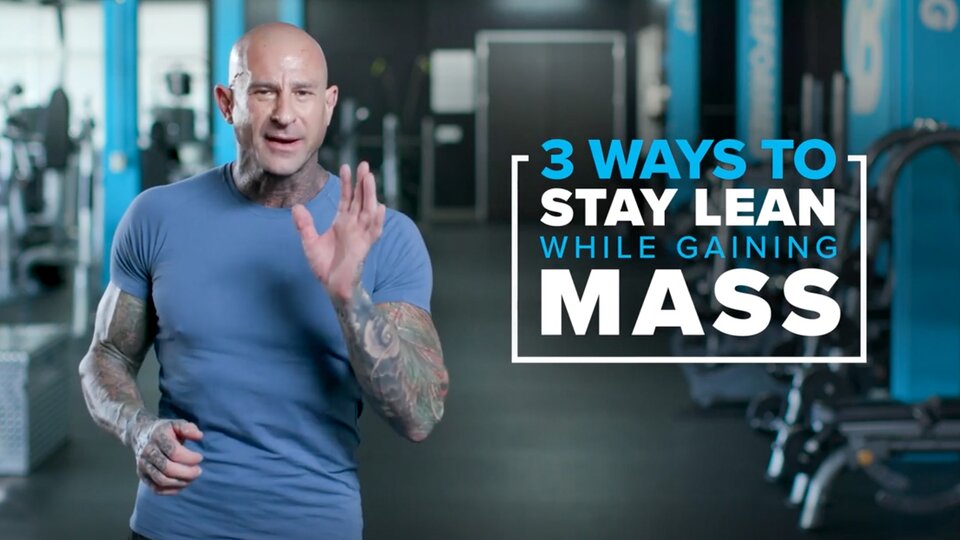 It's easy to think that when it comes to adding muscle, you might as well eat anything you want because you're going to gain body fat no matter what. Hey, that's why they call it "bulking," right? The more fat you're adding, the more muscle must be coming along with it.
Jim Stoppani, Ph.D., the creator of Shortcut to Size, Shortcut to Shred, and JYM Supplement science, disagrees. "Research now shows that's no longer the case," he says. "The leaner you are, the higher your muscle protein synthesis. This means your body is better able to build muscle when you are lean, and it also means the fatter you are, the less anabolic you are."
The only downside? You'll need to be slightly more strategic in your approach than you would be if your only plan was "hit a body part a day and hit the buffet as often as possible." Fortunately, Stoppani has your strategy outlined in his three favorite techniques to get lean—and stay lean—while building muscle.
1. Perform Full-Body Training
"Most mass-building programs follow a traditional split-type of training system where you only training one or two muscle groups per workout," explains Stoppani.
While this means you can lift more volume per muscle group in each workout, the downside of split-style training is reduced training frequency for each muscle group.
As Stoppani mentioned in his video and article, "4 Reasons You Should be Doing Full-Body Training," the main advantage of full-body training is each muscle group gets trained more frequently, which in turn influences gene activity to keep metabolic processes—such as fat loss and protein synthesis—revved up at a higher level. The overall effect is both greater fat loss and greater muscle gain.
How do you incorporate full-body training? Stoppani has shared enough examples of his favorite total-body training approaches on Bodybuilding.com to keep you busy for months.
Here are a few to mix and match:
2. Cycle Your Carbs
Carbs are your body's preferred fuel source, so it makes sense that you'd want to eat more carbs if you're training harder and trying to build muscle. The only problem with this approach is the extra carbs your body doesn't use can get stored as body fat. This is why the "eat everything and lift heavy" mass-gaining approach often leads to an increase in body fat.
Stoppani's approach is simple: Match your carb intake with your training, scheduling high and low days.
"With your training, you want to have those higher carb days on training days," says Stoppani. "On your off days, you lower your carbs. That way you're not gaining body fat while still maximizing your gains."
Not sure where to start with your macros at all? Our macronutrient calculator can help you dial in your baseline carb intake before you dial it in day by day.
3. Eat Enough Protein
Stoppani's third and final tip to stay lean while maximizing muscle mass is to boost your protein intake—perhaps significantly.
"Research shows that higher protein diets are not only beneficial for maximizing muscle gains, they also are helpful for maximizing fat loss," he explains. "This is due to protein synthesis, a process which burns calories while building muscle."
Stoppani recommends 1.5 grams of protein per pound of body weight when the goal is to stay lean while building muscle. This is a solid benchmark to aim for if you're training hard and have struggled to put on muscle in the past. If that number is so much higher than your normal intake that you find it too expensive or difficult to hit on a daily basis, aim for 1 gram per pound (around 2 g per kg), a science-backed benchmark among strength athletes that researcher Krissy Kendall, Ph.D., recommends in the article, "How Much Protein Should You Consume Every Day?" Once you've got that level dialed in, you can nudge it higher as needed.
If you liked these muscle-building and fat-loss tips, you'll love Jim Stoppani's complete BodyFit programs, Shortcut to Size and Shortcut to Shred. You can also check out more tips like these, as well as articles on training, nutrition, and supplementation, at jimstoppani.com.