The Secret to Achieving Your Gym Goals? Join a Fitness Community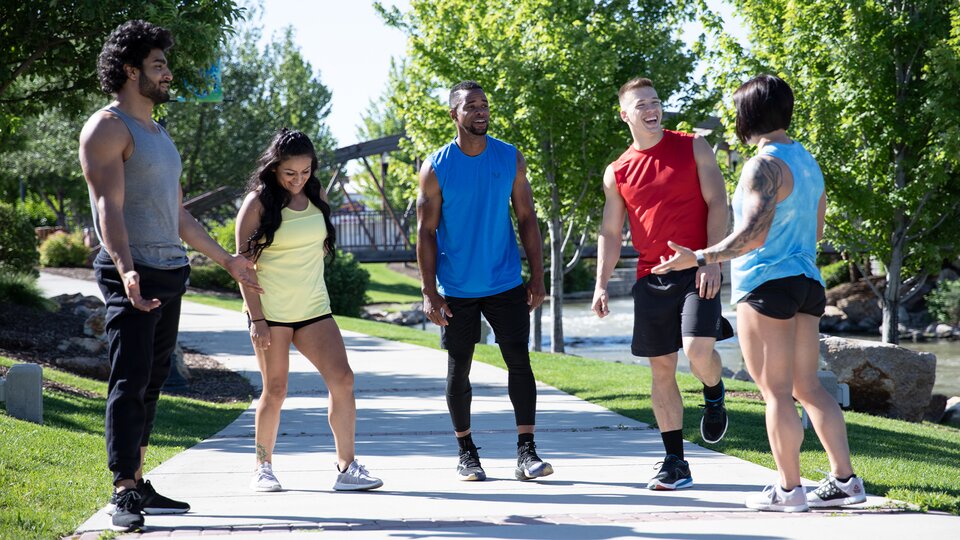 Are you a lone wolf in your journey to your fittest, fastest, strongest self? Many fitness enthusiasts, as well as weightlifters, runners, cyclists, and swimmers, train in solitude and work toward their goals without posting their WOD on Instagram or talking to others about it. Unfortunately, their self-imposed isolation may be hindering their progress.
"Fitness communities—whether it be boot camps, running clubs, or even just a workout partner—all positively impact participation and effort," says Rob Bell, Ph.D., a sport psychology coach, Ironman, and ultra-marathoner who has served as a mental toughness coach for multiple winners on the PGA Tour, Olympic medalists, and at the University of Notre Dame.
In fact, one study that examined the benefits of social support on weight loss found that people who worked alone on a weight-loss program had a 76 percent completion rate—not bad, but only 24 percent of those participants maintained their weight loss. On the other hand, the participants who worked out with friends had a 95 percent completion rate, with 66 percent of them maintaining their weight loss for at least six months.[1]
Fitness communities can take many forms, including in-person and virtual options: group training sessions led by a coach, fitness classes, online communities with like-minded members (such as Bodybuilding.com), gyms catering to specific workout styles (CrossFit or Pilates), subscriptions tied to specific equipment, and programs with nutrition goals. Each one offers a different experience, and it's crucial to find the right fit for your personality.
5 Benefits of Joining a Fitness Community
Still not sold on the idea of incorporating others into your fitness routine? Here's more food for thought on the many perks:
1. Accountability
Remember when you were a kid and the worst thing your dad could say to you when you made a mistake was that he was "disappointed" in you? Well, you'll be equally reluctant to disappoint your fitness community by skipping a workout.
"Knowing that others will want us there and that our absence affects the entire group forces us to be there," explains Bell. "It's a huge external motivator to not let others down."
2. Self-confidence
If you aren't familiar with the power of "modeling," it's the concept that seeing others do things gives us belief in ourselves—essentially, if they can do it, so can I.
"Being in the same group as others doing tough stuff enhances our own self-image and belief in ourselves because we are all in it together," says Bell. "The self-comparison, if handled correctly, enhances our own confidence."
3. Support
A strong fitness community can be a great support system when you need a pat on the back or a pep talk.
"Things will not always go as planned, so it's helpful to have people to turn to in times of need," says personal trainer Jessica Kasten, M.S., NSCA-CSCS, CPT, FRCms. "People in your community can lift you up if you're feeling down and help you identify and solve potential problem areas you may not have seen on your own."
4. Intensity
People tend to train harder when working in a group setting or with another person due to what's called the Köhler motivation gain effect.[2]
"Basically, no one in class wants to appear to be the weak one, so they will push harder than they would on their own," says Kasten. It's an ideal way to gain a competitive edge and push yourself harder.
5. Knowledge
Fitness communities can be great resources for learning more about whatever fitness niche you are passionate about.
"When people engage in a community, they can share ideas and learning materials, see what is working for other people with whom they share a common goal, ask each other questions, and more," says Kasten. "It can be a great way to get new workout ideas, share recipes, or learn about a new way of doing things."
Also, It's All in Your Head
Another reason that fitness communities are valuable and motivating is that they make your brain happy by triggering the release of neurotransmitters.[3]
"Exercise induces endorphins, which can cause people to experience a sense of euphoria and also reduce the perception of physical pain," says Kasten, referring to the phenomenon often called a "runner's high." "Endorphins can also generate a sense of closeness and bonding. People who work out together and experience an endorphin rush together can develop a sense of trust with one another and feel closer after the workout. This experience can help bring people together and create new friendships."
Aside from endorphins, Bell says there are two other hormones at play: oxytocin, the chemical that drives us to be around people we like and trust, and serotonin, which supports a sense of pride.
How to Find a Community with the Right Vibe
While there's no shortage of fitness communities out there, it's not a one-size-fits-all proposition.
"Like any relationship, it can take some trial and error," says Kasten. "You may have to kiss a few frogs before you find 'the one,' but if you are seeking a new fitness community, you will know when you have found your home."
Look for a group that makes you feel good about yourself, lifts you up instead of bringing you down, is happy to help, encourages healthy competition, and ultimately makes you feel like you are part of the team.
Not sure where to start? BodySpace is a free social fitness platform and—at 2.7 million members—is the largest online fitness community. It's a digital place to share your struggles, showcase your successes and progress pics, and interact with a network of millions of people all focused on becoming their best selves. Plus, it's full of tools to help with your transformation based on your goals, and pairs well with the BodyFit app, which contains 2,500 expert-created workouts. The Forums are also free, and categorized by topic (such as supplements, female bodybuilding, contest prep, and workout equipment). And Bodybuilding.com's social media communities are incredibly active—join the conversations on Twitter, Instagram, Facebook, and YouTube.
References
Wing, R. R., and Jeffrey, R. W. (1999). Benefits of recruiting participants with friends and increasing social support for weight loss and maintenance. Journal of Consulting and Clinical Psychology, 67(1), 132-8.
Kerr, N. L, & Hertel, G. (2011). The Kohler group motivation gain: how to motivate the "weak links" in a group. Social and Personality Psychology Compass, 5(11), 43-56.
Plante, T. G., et al (2001). Does exercising with another enhance the stress-reducing benefits of exercise? International Journal of Stress Management, 8(3), 201-13.
Green Nutrition: Healthy St. Patrick's Day Recipes
St. Patrick's Day, the greenest of the holidays, is right around the corner. You might have your favorite lucky green shirt that you wear every year, but do you also have a favorite green dish that you eat, too? For a lot of people that might be some corned beef and cabbage, but if you aren't a fan of that dish, want something with more balanced nutrition, or want to eat green at other meals too, try one of these healthy and tasty green recipes.
Green Goddess Smoothie for Two
2 cups green, leafy veggies, such as spinach, kale, romaine, and collard greens
2 cups liquid, such as water, milk (almond, coconut, cow's, soy, etc.), or Greek yogurt
3 cups fruit, such as banana, berries, mango, pineapple, peach, pear, and apple
Blend the greens and liquid first. Then add the fruit and blend again. Use frozen fruits for a thicker smoothie and to avoid adding ice.
(Here are more tips for building nutritious smoothies.)
Edamame Guacamole
1 cup frozen, shelled edamame, thawed
1 ripe avocado, peeled and pitted
½ cup chopped cilantro
2 cloves garlic, minced
¼ onion, roughly chopped
½ jalapeno, finely chopped
Juice of 2 limes
2 to 3 Tbsp water
Salt and freshly ground black pepper, to taste
Put edamame, avocado, cilantro, garlic, onion, jalapeno, and lime juice in the bowl of a food processor and pulse until combined. Add enough water to make a creamy consistency and pulse again. Pulse until smooth. Transfer edamame guacamole to a serving bowl and season with salt and pepper. Stir. Serve with chips or vegetables. Green, Green Salad
24 oz. Brussels sprouts, shredded
6–8 slices crisp cooked bacon, chopped
1 cup sliced red onion
⅔ cup dried cherries, unsweetened
⅔ cup sliced almonds, toasted
4 oz. goat cheese, soft and crumbled
Citrus Vinaigrette:
1 small orange, juiced
1 tsp. orange zest
1 lemon, juiced
2 Tbsp finely minced shallots (may substitute 1 Tbsp minced garlic)
1 tsp. yellow mustard
3/4 cup olive oil
2 tsp fresh thyme, minced
Sea salt and pepper to taste
Shred Brussels sprouts using the shredding blade of a food processor or slice thinly with a knife. Place Brussels sprouts in a large bowl and combine with chopped bacon, red onion, cherries, almonds, and goat cheese. Whisk together vinaigrette ingredients. Add vinaigrette immediately before serving and toss well to coat.
Makes 10 servings
This year on March 17th, pull out your favorite green clothing item and also make it a goal to eat green at every meal!
This blog was written by Angie Mitchell, RD, Wellness Coordinator. To find out more about the NIFS bloggers, click here.
Who doesn't love sweet potato casserole? It's the dish we all look forward to as we pull up the driveway on Thanksgiving Day (or any day, really!)
But there's probably a reason Aunt Mary is keeping that family recipe a tightly held secret.
That's because when you realize the average candy-coated Sweet Potato Casserole likely contains more than one stick of butter, a hefty amount of heavy whipping cream, and who knows how much refined white sugar, you might think twice before digging in.
(We're not even going to think about those recipes topped with marshmallows.)
The good news: All of these traditional ingredients aren't necessary to create an amazing Sweet Potato Casserole.
If you're looking to wow the crowd, keep it simple. This Sweet Potato Casserole recipe from 21 Day Fix creator Autumn Calabrese and her brother, chef Bobby Calabrese, uses a handful of simple ingredients to create a decadent glaze which perfectly accents this naturally sweet vegetable.
Autumn and Bobby run through this simple and delicious recipe while giving important tips along the way.
For example, did you know a great way to cook sweet potatoes evenly in the oven is to keep your dice as close to the same size as possible?
A bit of fresh ginger can give this recipe that extra flavor boost, but if you have fresh ginger go for it; if not, ginger powder works well, too.
While this is a classic holiday side dish that's ideal for Thanksgiving, it's also an awesome meal prep dish that you can make any time of year.
As Autumn points out, this dish "tastes like candy," so it's a great way to satisfy your sweet tooth all year long.
This will certainly be the easiest sweet potato casserole you'll ever make!
To get the recipe and find out the Portion Fix Containers and nutritional information, watch the FIXATE episode on Beachbody On Demand!
Kale is densely nutritious and hugely versatile — so aren't we all going through two bunches a week?
People may think kale is too tough or chewy, but unlike some of the most hearty greens — collards, I'm looking at you — kale is actually not all that difficult to prepare and doesn't require a ton of boiling to be palatable.
A light toasting in a heavy skillet will it break down just enough to maintain a bit of crunch. (All the same, I've heard home cooks discuss how long one should "massage" their kale before serving it raw — yes, that's a thing.)
It really just comes down to having a collection of healthy, achievable recipes at the ready to broaden your repertoire and ease the mind.
This Kale Salad is an easy way to incorporate this nutritious leafy green into your healthy meal plan.
For their healthy cooking show FIXATE, 21 Day Fix creator Autumn Calabrese and her brother, chef Bobby Calabrese have put together a hearty kale salad topped with blackened chicken breast and the FIXATE Lemon Dijon dressing.
As a bonus, they've got the lowdown on the perfect technique to mastering Bobby's dry-rubbed Cajun chicken. This oil-free pan sear relies on a layer of Cajun seasoning that almost serves as a crust and beautifully blackens the exterior of the chicken breast.
Because toasting kale is easy, but not entirely obvious, Bobby shares a few tips that help to ensure your Kale Salad doesn't end up tasting more like kale chips!
This recipe works well as a hearty, satisfying lunch. But also consider it an easy to prepare dinner party salad.
If you'll be taking on lots of dishes for the holidays and want to add a no-fuss salad that's sure to impress, this is an ideal choice.
You can easily double or triple this recipe toasting your kale in batches. The tangy Lemon Dijon dressing pairs well with chicken, turkey, or beef and won't overpower your main dish.
To get the recipe and find out the Portion Fix Containers and nutritional information, watch the FIXATE episode on Beachbody On Demand!