The Secret to Achieving Your Gym Goals? Join a Fitness Community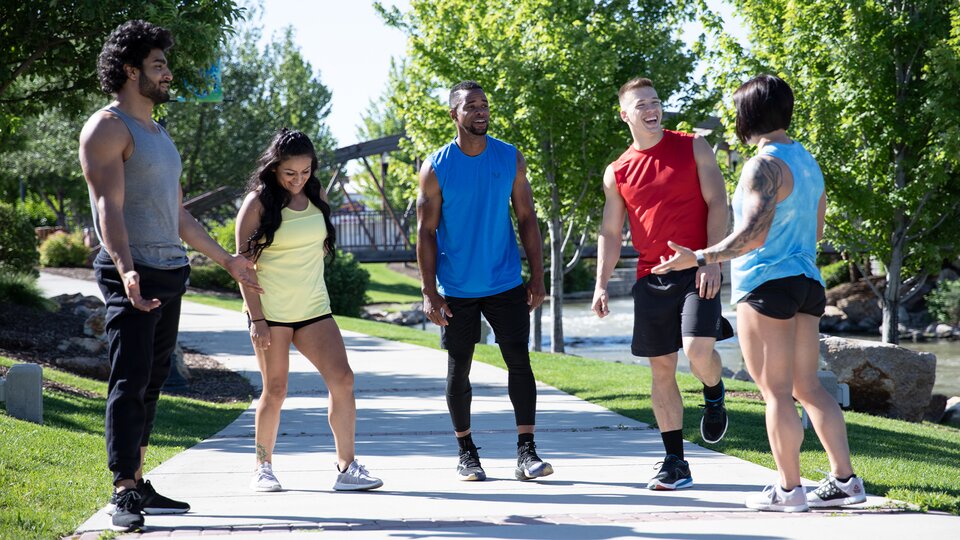 Are you a lone wolf in your journey to your fittest, fastest, strongest self? Many fitness enthusiasts, as well as weightlifters, runners, cyclists, and swimmers, train in solitude and work toward their goals without posting their WOD on Instagram or talking to others about it. Unfortunately, their self-imposed isolation may be hindering their progress.
"Fitness communities—whether it be boot camps, running clubs, or even just a workout partner—all positively impact participation and effort," says Rob Bell, Ph.D., a sport psychology coach, Ironman, and ultra-marathoner who has served as a mental toughness coach for multiple winners on the PGA Tour, Olympic medalists, and at the University of Notre Dame.
In fact, one study that examined the benefits of social support on weight loss found that people who worked alone on a weight-loss program had a 76 percent completion rate—not bad, but only 24 percent of those participants maintained their weight loss. On the other hand, the participants who worked out with friends had a 95 percent completion rate, with 66 percent of them maintaining their weight loss for at least six months.[1]
Fitness communities can take many forms, including in-person and virtual options: group training sessions led by a coach, fitness classes, online communities with like-minded members (such as Bodybuilding.com), gyms catering to specific workout styles (CrossFit or Pilates), subscriptions tied to specific equipment, and programs with nutrition goals. Each one offers a different experience, and it's crucial to find the right fit for your personality.
5 Benefits of Joining a Fitness Community
Still not sold on the idea of incorporating others into your fitness routine? Here's more food for thought on the many perks:
1. Accountability
Remember when you were a kid and the worst thing your dad could say to you when you made a mistake was that he was "disappointed" in you? Well, you'll be equally reluctant to disappoint your fitness community by skipping a workout.
"Knowing that others will want us there and that our absence affects the entire group forces us to be there," explains Bell. "It's a huge external motivator to not let others down."
2. Self-confidence
If you aren't familiar with the power of "modeling," it's the concept that seeing others do things gives us belief in ourselves—essentially, if they can do it, so can I.
"Being in the same group as others doing tough stuff enhances our own self-image and belief in ourselves because we are all in it together," says Bell. "The self-comparison, if handled correctly, enhances our own confidence."
3. Support
A strong fitness community can be a great support system when you need a pat on the back or a pep talk.
"Things will not always go as planned, so it's helpful to have people to turn to in times of need," says personal trainer Jessica Kasten, M.S., NSCA-CSCS, CPT, FRCms. "People in your community can lift you up if you're feeling down and help you identify and solve potential problem areas you may not have seen on your own."
4. Intensity
People tend to train harder when working in a group setting or with another person due to what's called the Köhler motivation gain effect.[2]
"Basically, no one in class wants to appear to be the weak one, so they will push harder than they would on their own," says Kasten. It's an ideal way to gain a competitive edge and push yourself harder.
5. Knowledge
Fitness communities can be great resources for learning more about whatever fitness niche you are passionate about.
"When people engage in a community, they can share ideas and learning materials, see what is working for other people with whom they share a common goal, ask each other questions, and more," says Kasten. "It can be a great way to get new workout ideas, share recipes, or learn about a new way of doing things."
Also, It's All in Your Head
Another reason that fitness communities are valuable and motivating is that they make your brain happy by triggering the release of neurotransmitters.[3]
"Exercise induces endorphins, which can cause people to experience a sense of euphoria and also reduce the perception of physical pain," says Kasten, referring to the phenomenon often called a "runner's high." "Endorphins can also generate a sense of closeness and bonding. People who work out together and experience an endorphin rush together can develop a sense of trust with one another and feel closer after the workout. This experience can help bring people together and create new friendships."
Aside from endorphins, Bell says there are two other hormones at play: oxytocin, the chemical that drives us to be around people we like and trust, and serotonin, which supports a sense of pride.
How to Find a Community with the Right Vibe
While there's no shortage of fitness communities out there, it's not a one-size-fits-all proposition.
"Like any relationship, it can take some trial and error," says Kasten. "You may have to kiss a few frogs before you find 'the one,' but if you are seeking a new fitness community, you will know when you have found your home."
Look for a group that makes you feel good about yourself, lifts you up instead of bringing you down, is happy to help, encourages healthy competition, and ultimately makes you feel like you are part of the team.
Not sure where to start? BodySpace is a free social fitness platform and—at 2.7 million members—is the largest online fitness community. It's a digital place to share your struggles, showcase your successes and progress pics, and interact with a network of millions of people all focused on becoming their best selves. Plus, it's full of tools to help with your transformation based on your goals, and pairs well with the BodyFit app, which contains 2,500 expert-created workouts. The Forums are also free, and categorized by topic (such as supplements, female bodybuilding, contest prep, and workout equipment). And Bodybuilding.com's social media communities are incredibly active—join the conversations on Twitter, Instagram, Facebook, and YouTube.
References
Wing, R. R., and Jeffrey, R. W. (1999). Benefits of recruiting participants with friends and increasing social support for weight loss and maintenance. Journal of Consulting and Clinical Psychology, 67(1), 132-8.
Kerr, N. L, & Hertel, G. (2011). The Kohler group motivation gain: how to motivate the "weak links" in a group. Social and Personality Psychology Compass, 5(11), 43-56.
Plante, T. G., et al (2001). Does exercising with another enhance the stress-reducing benefits of exercise? International Journal of Stress Management, 8(3), 201-13.
A 15-Minute Cardio Workout for When Your Body Just Needs to Move
When you're stressful, adding an hour-long workout to the mix might make it even worse. But if you still want to move, a 15-minute cardio workout can be just what you need.
So many of us can benefit from a short and sweet workout, whether your fitness level is beginner or more advanced. "Light and fun exercise gives you the freedom to just move," NASM-certified personal trainer Kila Duncan, founder of Purely Strong Fitness, tells SELF. "You don't have to think so much and you have the ability to just let go of what's going on in your life." Sign us up!
Duncan created this heart-pumping cardio workout with light movement in mind. While it includes some typical strength moves, like push-ups and curtsy lunges, you'll get that cardio burst since your work periods will be roughly twice as long as your rest periods. And it's just one more example that shows you don't need typical steady-state cardio, like running or riding a bike, to bring on the benefits of that kind of workout. Along with delivering a rush of endorphins, cardio training can help reduce blood pressure and also improve cardiovascular function as a whole. If you're more advanced and want to up the intensity (hello, HIIT!) of this quick workout, try going all-out during your work periods.
Another benefit? This workout is super efficient if you're strapped for time, or simply don't want to spend all the time you do have working out. That's because the 15 minutes includes both your warm-up and your workout. Warm-ups are especially important for cardio workouts because they prime your muscles and reduce your chance of injury—plus, studies have shown that they can even boost your workout performance.
This warm-up, which hits your core, glutes, hamstrings, and shoulder muscles, is meant to "rev up your engine" without being too sweaty and strenuous while preparing you to continue on with your workout. If you have a few extra minutes, Duncan suggests adding a couple more of your favorite dynamic stretches—like high knees or lunges—to the warm-up for a bit of added mobility and strength.
Duncan especially loves this workout for active recovery days, as the easy movement can help ease muscle soreness without added strain. And for beginners, "When you move just a little bit every day—even 15 minutes—it can go such a long way for your body to be conditioned to take on more strenuous workouts," she says.
If you have hip, knee, or ankle injuries, talk with your doctor before trying this workout. And for higher-impact moves like the frogger, we've incorporated lower-impact modifications. Ready to take on this fun, quick 15-minute cardio workout? Here's what you need to get started.
The Workout
What you'll need: An exercise mat for extra cushioning.
The Exercises
Warm-up:
Frogger
Glute bridge
T-Spine windmill stretch
Circuit:
Plank to downward dog tap
Curtsy lunge to squat
Push-up
Directions
For the warm-up, you'll complete 5 reps of the frogger, 10 reps of the glute bridge, and 8 reps per side of the T-spine windmill stretch. Complete the circuit twice, taking breaks as needed.
For the workout, you'll do three rounds of the three circuit exercises. For the first round, perform each exercise for 1 minute, taking a 30-second break in between each move. For round two, do each exercise for 45 seconds, breaking for 20 seconds in between each move. For the final round, perform each exercise for 30 seconds, taking a 15-second break in between each move.
Demoing the moves below are Delise Johnson (GIF 1), CEO and strength coach at Wellness and Weights; Shauna Harrison (GIF 2), a Bay Area–based trainer, yogi, public health academic, advocate, and columnist for SELF; Caitlyn Seitz (GIF 3), a New York-based group fitness instructor and singer/songwriter; Cookie Janee (GIF 4), a background investigator and security forces specialist in the Air Force Reserve; Angie Coleman (GIF 5), a holistic wellness coach in Oakland; and Erica Gibbons (GIF 6), a California-based personal trainer and graduate student becoming licensed as a marriage and family therapist.
Fitness,Fitness / Workouts
How to Build a Protein Shake
The quick assembly and portability of shakes and smoothies make them a convenient choice for fast-paced days. They can serve as a nutritious meal replacement and make healthy eating easier.
Yet many commercial varieties deliver too much sugar and neglect a balance of nutrients.
"Once you get the hang of incorporating the right nutrients, the possibilities are endless for different flavors you can enjoy," says Anika Christ, RD, LD, director of client optimization at Life Time.
Follow this template Christ designed to build your own favorite nutrient-balanced, satiating shake.
Base Ingredients
Liquid
Amount: 6 to 8 oz.
Suggested choices: Water; unsweetened nut milk, such as almond, coconut, or cashew; hemp milk; organic, whole-fat cow's milk; or unsweetened coconut water
Protein
Amount: 20 grams, or one to two scoops
Suggested choices: Grassfed whey, collagen, rice, pea, or vegan protein powder
Fat
Amount: 5 grams or 1 tbs.
Suggested choices: Raw nuts, such as walnuts or almonds; nut butter, such as almond, cashew, or sunflower; ground flaxseeds; chia seeds; avocado; coconut oil or MCT oil
Greens
Amount: one handful fresh or one serving of powdered greens
Suggested choices: Spinach, kale, spirulina, or powdered greens
Fiber
Amount: 10 grams or 2 tbs.
Suggested choices: Ground flaxseeds; chia seeds; acacia fiber; a or fiber powder supplement
Flavor Boosters
Fruit
Amount: one serving
Suggested choices: 1/3 banana or 1 cup berries; other options include melon, pineapple, cherries, lemon, or lime
Extracts
Amount: 1 tsp. (or to taste)
Suggested choices: Vanilla, peppermint
Spices
Amount: 1 tsp. (or to taste)
Suggested choices: Pumpkin spice, cinnamon, turmeric, ginger
Have you tried this NEW workout plan that everyone is talking about?
3 Moves to Improve Your Turkish Get-Up
We tend to train strength in straight lines, moving a weight from point A to point B along the most efficient path. The squat, bench press, and deadlift, for instance, are all one-liners with clear paths.
But lifting, like life, doesn't always present a clear-cut path — there may be stops along the route and transitions that must be negotiated. Simply put, some lifts not only make you strong but also help you learn when to work around, work through, hold steady, and shift to meet each step along the way.
The Turkish get-up (TGU) is precisely the kind of multistep movement that builds strength endurance while teaching your body to adapt to changing stimuli, says Adrianne Ortiz, MS, PES, PN, a Philadelphia-area strength master trainer for Kettlebell Athletics.
The TGU promotes stable joints and a broad base of strength through sweeping ranges of motion. Because your elevation changes — from standing to lying on the floor and back again (or vice versa) — the TGU also challenges your peripheral heart system, which results in better circulation and overall conditioning.
Its functional benefits almost seem too obvious to mention, as getting to the floor and back up again with ease is a keenly useful life skill at every age.
"The Turkish get-up is a dancing movement," says Ortiz. "It's long and low and also tall and proud, and people can interpret and emphasize each step differently based on how we are each bodied differently."
Paired with two other kettlebell mainstays, the windmill and the swing, the TGU trains tension and flow, enhancing your ability to move with both strength and fluidity.
In the following workout, designed by Ortiz, be ready to practice patience and keep your movements slow and smooth. You won't be pushing speed or weight anywhere near the point of failure.
"I like to look for that magical dose," says Ortiz. "You could do this workout every day and it wouldn't fry you."
The Workout
You'll be practicing for time, not reps, in this workout, focusing on the skill at hand, says Ortiz. For the first two exercises, set a timer to a two-minute countdown (or for two-minute intervals), resting for that same amount of time between sides. For the third movement, work and rest in 30-second intervals for five to 10 rounds. Perform the workout as instructed one time all the way through.
Never proceed past technical or mechanical failure — that is, do not push to any sort of form or bodily breakdown, or even close.
Reverse Body-Weight Turkish Get-Up:
2 minutes nondominant side (if you're right-handed, begin with your left hand held aloft)
Rest 2 minutes
Reverse Body-Weight Turkish Get-Up:
2 minutes dominant side
Rest 2 minutes
Half-Kneeling Kettlebell Windmill:
2 minutes nondominant side
Rest 2 minutes
Half-Kneeling Kettlebell Windmill:
2 minutes dominant side
Rest 2 minutes
Hand-Release Kettlebell Swing:
Set a timer for intervals of 30 seconds of work and 30 seconds rest, and perform five to 10 rounds (either single-sided or alternating), working and resting in equal measure.
Have you tried this NEW workout plan that everyone is talking about?