Black History Month: 15 Legendary African American Bodybuilders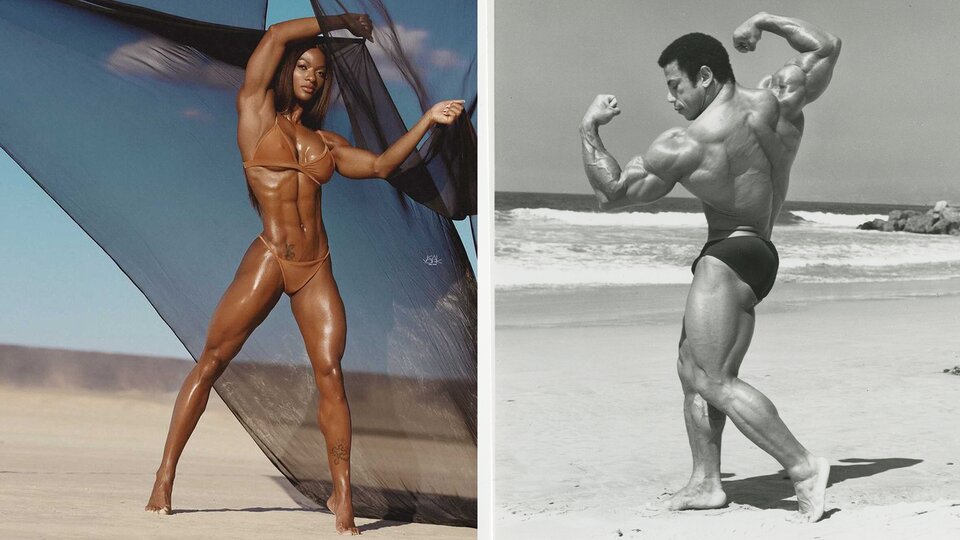 Bodybuilders of color have been integral to the development of their sports, and of lifting culture more generally, for decades. There's no better time than Black History Month to look back and celebrate some of the most iconic African American physique athletes, from the Golden Age of bodybuilding to the present day.
A note on the choices: Our selections are presented in approximate historical order—not in order of importance or achievement. While there are countless impressive and important bodybuilders and physique athletes of color worldwide, we are limiting this list to African Americans. That means some otherwise worthy names—Serge Nubret and Sergio Oliva, for example—aren't on the list.
You can argue over the exclusions—please do!—but there's no denying that these inspirational athletes are among the best who ever lived and lifted.
Leroy Colbert
Leroy Colbert was born in 1933 and competed in several top amateur contests in the early 1950s. Among his titles were Mr. New York City in 1952 and the 1953 Mr. Eastern America. But he's remembered today more for what he accomplished away from the stage. For one, he was among the first men of color to grace the cover of bodybuilding and strength magazines—and this was before the Civil Rights movement of the 1960s. He is also credited as being the first man ever to achieve 21-inch muscular arms.
Colbert retired after a catastrophic motorcycle accident almost resulted in him losing a foot. He went on to run supplement stores in later years. Colbert passed away in 2015 at the age of 82.
Robby Robinson
With his peerless stomach vacuum and perfectly geometrical afro, Robinson is an indispensable part of the story of bodybuilding's Golden Age. He may be familiar if you've seen the movie "Pumping Iron," but "The Black Prince" made contributions to bodybuilding far beyond that. He was also nicknamed "Mr. Lifestyle" because of his commitment to bodybuilding, and he's continued to live up to the title for decades.
In 1975, he won the Mr. America, Mr. World, and Mr. Universe pro titles in the same season. In 1979, he was also the first winner of the Night of Champions show, now known as the New York Pro. Amazingly, 15 years later he was still in peak condition and beat out heavily favored Lou Ferrigno to win the first Masters Olympia in 1994 (you can still see video of the show on YouTube).
And now, 50 years into the game, Robinson is still undeniably jacked. Before the gym closures of 2020, he could still be seen in Gold's Gym Venice every day, training hard at nearly 75 years old.
Chris Dickerson
Throughout its history, the Mr. Olympia title has been held by men of different backgrounds from all over the world. For just a few examples, Sergio Oliva was from Cuba, Arnold Schwarzenegger came to America from Austria, and Samir Bannout hailed from Lebanon.
But it was the 1982 titleholder, Chris Dickerson, who served as the first African American champion. Amazingly, he achieved this milestone just short of his 43rd birthday, when he was 16 years into his impressive competitive career. He broke another major barrier in the sport, as well, as the first openly gay man to win the title.
Lee Haney
Lee Haney was the first completely dominant Olympia competitor of the post-Arnold era. He defeated incumbent Samir Bannout to win the first of his eight consecutive Sandow trophies in 1984. The South Carolina native would become the biggest name in the sport for the rest of that decade, releasing VHS training tapes and even earning coverage in mainstream outlets such as ESPN.
He also could be seen training with various professional wrestlers from the World Wrestling Federation (now WWE), and fortunately for the rest of us, the results have been preserved online. Haney retired after his eighth win in 1991, which broke Schwarzenegger's record of seven titles. He currently promotes contests and is still active in bodybuilding while living in Atlanta, Georgia.
Lenda Murray
What Haney was to men's bodybuilding, Lenda Murray was the equivalent on the women's side of the sport. The eight-time Ms. Olympia winner set a new standard of muscular development and had a tight hold on that title from 1990 through 1995. Her first victory was actually the first time she competed in the contest. No other competitor has won the Olympia in his or her debut appearance since.
She won two more titles in 2002 and 2003 before retiring in 2004. She has stayed involved in bodybuilding and fitness both as a promoter and in a media role.
Jim Morris
Want to know what longevity looks like? Morris undertook his first bodybuilding show in 1959, and his final show in 1996, when he won the 60-plus division at the Masters Olympia. In between, he held numerous titles: Mr. America, Mr. USA, and Mr. Universe among them. For 14 years, from 1974-88, the so-called "Nice Guy of Bodybuilding" worked as Elton John's personal bodyguard, during which time he transitioned into a vegetarian lifestyle—the nutritional approach that fueled his Masters Olympia win.
Later still, Morris became a strict vegan, and at age 78, he even posed nude in a PETA advertisement in support of veganism, mimicking Rodin's famous sculpture The Thinker. That year, he was also the subject of a 14-minute documentary about his lifestyle, training, and philosophy. Morris died at age 80 in 2016.
Shawn Ray
Shawn Ray was a teen sensation who evolved into one of the top contenders for the Olympia in the 1990s, which is considered by many fans to be the most competitive decade in the sport's history. The 1991 Arnold Classic Champion placed second at the Olympia twice, but finished in the top 5 an amazing 12 times, a feat never accomplished before or since.
His runner-up finish to Dorian Yates in 1996 is considered one of the most controversial results on that stage. The only men he was never able to defeat onstage were Haney and Yates.
Flex Wheeler
Wheeler was another of those top contenders in the 1990s, and is still cited regularly by commentators as perhaps the all-time master of posing. He won four Arnold Classic titles over the course of his career, and finished in second at the Olympia on three different occasions, earning him the nickname, "The Uncrowned Mr. Olympia."
In recent years, Wheeler has continued to be one of the most inspirational figures in the sport, first because of his comeback in the Classic Physique division in 2017 at more than 50 years old, and later because of his ongoing recovery from losing his foot due to nerve damage in 2020.
Ronnie Coleman
Ronnie Coleman is an unquestionable all-time great, but he was no overnight sensation. He debuted as a pro in 1991 and slowly worked his way up the ranks. He would shock the world by defeating Flex Wheeler for the Mr. Olympia in 1998 at Madison Square Garden. The then full-time police officer from Texas actually kept his day job while being the number one man in bodybuilding for the next few years. His feats of strength, such as bench pressing 500 pounds for 6 reps and squatting 800 pounds for a double, are still talked about to this day, and his catch phrases are an essential part of any serious lifter's vocabulary.
Image by B. Stefanov via Shutterstock
In 2004, Coleman competed at the Olympia weighing an astounding 296 pounds onstage. It's considered the most impressive display of size in the history of the Olympia. He held the title until 2006, when he was finally defeated by Jay Cutler. Back in 2011, Coleman gave Bodybuilding.com an exclusive look into how he lived and trained.
Dexter Jackson
When "The Blade" took the stage at the 2020 Mr. Olympia contest at the age of 51, it was the 21st and final time that he stood on the biggest stage in bodybuilding. He's the only man to have ever competed at the Olympia in four different decades.
His first appearance was in 1999 where he secured ninth place. He won the title from Cutler in 2008, one of 29 professional victories he has secured, the most of any bodybuilder ever.
Iris Kyle
No competitor in bodybuilding, male or female, has held as many Olympia wins as Iris Kyle. Her dominance of the sport of women's bodybuilding is something that only has parallels in other sports, like Tiger Woods in golf or Serena Williams in tennis.
She is a ten-time Ms. Olympia winner, and retired with the title in her possession after her 2014 win. Her seventeen overall titles as a professional makes her the most successful female pro bodybuilder ever. Amazingly at the age of 47, she still hasn't ruled out returning to the Olympia stage.
Phil Heath
Heath was the most dominant competitor of the 2010s and made more strides in mainstream markets than many of the previous titleholders before him. He was the first Olympia champion of the social media era, and by appearing offstage on ESPN, WWE, Bloomberg News, and in the film "Generation Iron," he helped bring more awareness to bodybuilding and fitness.
He finished third in the 2020 Olympia and sits tied with Schwarzenegger for the second-most wins of all time, behind Haney and Coleman.
Kai Greene
"Mr. Getting it Done" hasn't competed since 2016, but remains one of the most revered and inspirational bodybuilders of all time. Having had a troubled childhood, Greene embraced bodybuilding as an art form and became a top professional along the way. The three-time Arnold Classic Champion was considered Heath's greatest rival during his reign as Mr. Olympia, but more than what happened on the stage, he has earned his devoted following with his philosophical personality and positive demeanor.
Candice Lewis-Carter
Candice Lewis-Carter has been a consistent presence on the figure stage for years and is used to her name being considered a favorite in any contest she enters. Among her 13 pro titles are the Figure International title wins in 2017 and 2018.
She placed second at the Olympia in 2018 and retired from competition that same year to start her family. She also focuses on helping mentor and train other women to become successful through her business Next-Level Lifting.
Cydney Gillon
Gillon is one of the top active competitors on the women's side of the stage, and is right in the midst of her own streak of dominance. She has won the Figure Olympia four times, including 2020, which tied her with Nicole Wilkins for the most wins in that division. Gillon is also a former Ms. International winner at the Arnold Sports Weekend.
A former track star in college, she also showed she could do more than pose when she appeared on the reality TV show "Survivor." Away from fitness, she has established the Cydney Gillon Scholarship, which helps students in high school successfully transition to college.
5 Tips to Improve Positivity (These Really Work!)
Get the Basics…
Having a positive outlook will give you the "happiness advantage" as you pursue success. The pay to this advantage isn't crazy complicated. This perspective turnaround can happen in 21 days. One of our recent team meeting topics was something we're all familiar with: Training!
It was a little different, though, because we were focused on brain training, specifically: Training Your Brain to Be Positive!
Our topic was inspired by Shawn Achor's Ted Talk "The Happy Secret to Better Work."
Why is it important to train your brain to be positive?
According to Shawn's research, when reflecting on something that's happened to us, what actually happened doesn't shape us as much as our thoughts or feelings about that event.
Shawn says, "90 percent of your long-term happiness is predicted not by the external world, but by the way your brain processes the world."
People tend to think that as long as you continue to work harder and longer, you'll accomplish more and therefore be happier.
Unfortunately, your brain works against you here and simply starts looking for the next goal once you achieve the original one. So if you place your happiness and fulfillment on the other side of some success, you'll never actually get there!
Positive brain training can help to increase your happiness right now, which in turns boosts your performance in some unexpected ways:
"If you can raise somebody's level of positivity in the present, then their brain experiences what we now call a happiness advantage, which is your brain at positive performs significantly better than at negative, neutral or stressed… we've found that every single business outcome improves."
Ready to start your brain positivity training?
Here are Shawn's simple tips…
5 Tips to Boost Positivity
Here are five simple ways to boost your positivity, add some more happiness to your life, and increase your performance:
Take 2 minutes to write down 3 positive things in your life. If you do this daily for 21 days, you'll rewire your brain for more positivity! Write down your thoughts by journaling. Exercise daily (Hopefully, you already have this covered! If not… ). Start practicing meditation. Add some random acts of kindness to your day!
How are you going to start training your brain to be positive?
Train Anyone, Anywhere in the World. New Exercise.com for Business Features UX Improvements Updated display of Product pages Updated display of Edit Profile page Updated process of creating Coupons for Subscriptions Updated copy for Group cancellation links Added upper limits to maximum weight logged for a given Exercise Updated display of Logos within Emails Updated handling of deleted Trial Subscriptions Updated display of Group member list Updated display of Subdomains Updated handling of invited Clients who sign up via a Checkout Link Updated display of Login view Updated permissions for Admin Sub-Trainers Updated display of Purchase Info in Email Templates Coming Soon Updates for Block Programming
References:
You might also like…
9 Tips for Staying Healthy on a Road Trip
#1 – Set a Morning Workout Routine
Get up 30 minutes earlier then you plan to each day and fit in a high-intensity interval training (HIIT) session or sprint drills. HIIT is a fantastic way to burn a huge amount of calories in a short period of time. 10 minutes of hard work in the morning can burn the same amount of calories as 40 minutes on the treadmill. (more…)
Is being a personal trainer a fun job?
Get the Basics…
Working as a personal training can be both a fun and rewarding experience Monetary and personal gains along with a sense of self-satisfaction through helping others are achievable through working as a personal trainer Taking care of the business end further ensures the life of a personal trainer remains enjoyable Fitness enthusiasts hit the gym for different reasons. Weight loss and muscle building top the list. Are they the most important reasons why gym goers hit their favorite fitness spot?
For some, seeing results serves as the top motivator to head over to the gym to jump on the Stair Master and then lift weights. Don't, however, overlook another big motivator: hitting the gym is fun.
People don't go to the gym to experience a grind or perform hard work. They love the gym because working out is enjoyable. Embracing the fitness lifestyle can be enormously fun.
Those really into the fitness lifestyle may take things to the next level. They become professionals in the fitness industry.
Gravitating towards the job of a personal trainer remains the logical step for someone interesting in spending time in the gym while earning a good living.
Does the fun go out of gym time once you become a personal trainer, though? As long as you approach the job the right way, personal training should always remain a lot of fun.
Doing What You Love
One of the most oft-repeated sayings in the job seeking world is "Do what you love and you'll never work another day in your life."
Personal trainers dedicate themselves working out, eating right, and learning better approaches to training. Their hearts and minds are in the gym. They love to attend fitness expos and stay on top of new trends in the industry.
Personal training allows them to spend their work week doing what they would be doing during off hours.
By doing what you love, you eliminate a lot of the stress common with working a job solely for the money. Of course, the fringe benefit of becoming a personal trainer would be the potential to earn a decent amount — possibly a significant amount — of money.
That said, the most rewarding and fun aspects to being a personal trainer have nothing to do with monetary compensation.
Helping People in Need
A great sense of personal well-being can be gained from leading others down the path of better fitness.
Only a small segment of people working with personal trainers are bodybuilders and powerlifters looking to win competitions. The vast majority of clients are people wanting to improve their health and appearance.
Since they lack the experience and knowledge to do so on their own, they ask a personal trainer for support. Personal trainers often gain tremendous personal satisfaction by helping people meet their goals.
Giving trainers experience great joy when assisting someone to achieve his/her goals and to live a healthier life.
Meeting Lots of New People
Personal trainers can't help but meet a lot of people. They meet fellow professionals and, of course, they meet a lot of clients.
Talented and hardworking personal trainers leave great impressions in the minds of people they come in contact with. Things don't always remain strictly business with the people personal trainers meet.
Friendships develop and most agree that making a large number of friends only has its positives. In fact, this adds to the overall positive nature associated with becoming a personal trainer.
The Work Environment is Appealing
Personal trainers don't sit at a desk in a dreary, stuffy office. They spend their time in the overall upbeat environment of a full-service gym.
The combination of the sun shining through the windows and the overall enthusiastic attitudes of the gym's members makes the environment one very enjoyable to spend time in.
Train Anyone, Anywhere in the World. Setting Your Own Hours
Gyms open really early in the morning and even stay open late. Certain gyms even keep their doors open 24 hours a day creating flexibility for a personal trainer's schedule.
With flexibility, the concept of the dull 9 – 5 job doesn't fit into the life of a personal trainer. Through setting your own hours, you devise a work week that benefits you mentally and physically.
Setting your own hours contributes to getting the maximum amount of rest, balancing work and home responsibilities, and keeping time free for personal pursuits.
All these things come together to make the life of a personal trainer a bit more enjoyable.
Take Care of Business to Make Things More Fun
Personal training remains a business pursuit. While enjoyable, specific responsibilities cannot be avoided. Trainers who properly take care of the business end keep things a lot more enjoyable.
— Pace Yourself and Craft a Smart Schedule
The best way to make sure you never stop having fun entails preventing burnout. While it takes time to build up clients, once a personal trainer good reputation gets out there, new clients start calling to book sessions.
Every client and every training sessions add up to more and more money. Certain trainers can book ten sessions a day six days a week and not suffer burnout.
Those unable to work so many hours, however, should cut their schedule back.
By working at a decent pace, the job won't become a grind or burdensome. Hence, training people never stops being fun.
— Be Very Organized
You will keep the job of a personal trainer much more enjoyable when you properly organize your business. Plan out your work schedule in advance and log all training session dates and times.
Also, keep detailed logs of your client's progress so the next session builds on the previous one. This way, appointments are both met and remain productive.
Organize all files such as client risk assessments and waivers. Keep track of your earnings and all possible deductions. Doing so makes things a lot easier if the need for these documents ever arises.
— Invest in a Good Insurance Policy
How could buying a liability protection policy make the job more fun? Well, by having insurance protection in place, you eliminate a lot of stress and worry over potential liability.
Anything that cuts down on worry and stress contributes to the fun nature of the job.
Taking care of business definitely, adds to the fun. You might not see how it does this, but good business practices always make things easier.
The Personal Trainer's Life
Personal training represents a career and life path a lot different from other professions.
Since the professional side comes from what may have once been a hobby, the chance to have fun stays huge. If this life is for you, then there's no reason why the fun ever has to go away.
References:
You might also like…